Local 50
We help create Disneyland's Magic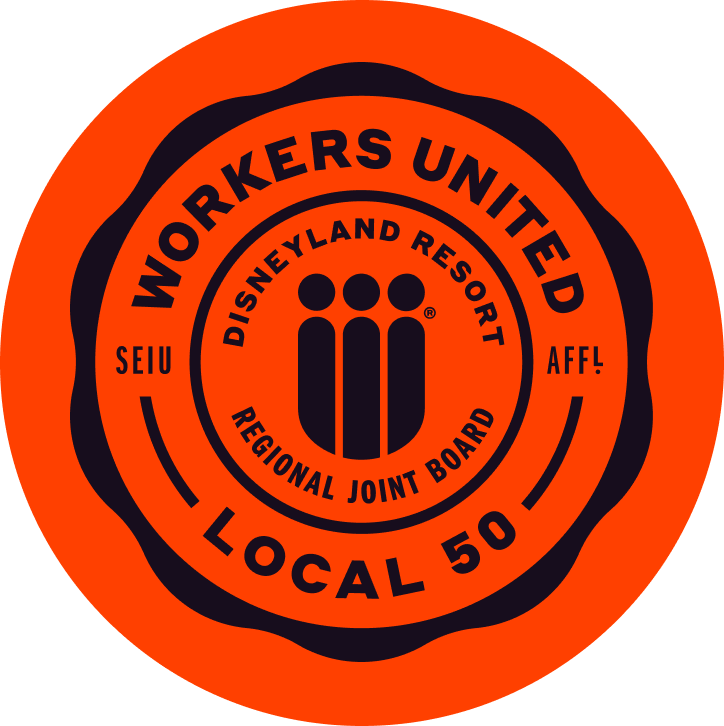 We are the more than 6,500 food and beverage cast members at the Disneyland Resort. Our members have been a part of the union since the 1950s, with the earliest contract in possession dating back to July 1, 1957. Originally, there were only 5 classifications of work. Now we encompass 25 classifications. We perform everything from preparing and creating treats like turkey legs and churros to serving grant and exquisite meals at the famous and exclusive Club 33. If you are eating in the parks, our members are making that happen.
By joining our voices together to build an inclusive union that serves all cast members, we gain the power to win improved wages, benefits, and working conditions from Disney.
By representing and advocating for the rights and well-being of Disneyland Resort's food service workers, we create increased happiness for our cast members, so they, in turn, can make our guests happy. 
By negotiating and administering strong contracts, we safeguard the future of our cast members and their families.
Early into the tenure of the current Local 50 leadership, our executive board was looking for more ways to support and give back to our members. They decided that a scholarship would be their priority and a sound investment in our members, and their children's futures. After getting member approval to finance six $1000.00 scholarships over the Fall 2016 and Spring 2017 semesters, the executive board got to work. The scholarship winners were decided in early December by a volunteer teacher and police officer, and we awarded the winners their scholarships after the new  year. With the success of the initial round of scholarships, the leadership is continuing the program indefinitely.
Latest News
In the truest form of trade union solidarity, Workers United and the Communications Workers of America (CWA), together with the organizing committee of Fruit Stand Workers United (FSWU) have agreed that CWA will provide support to FSWU's union organizing efforts at Apple's Grand Central Station store in New York City.

Workers United, the union supporting Starbucks workers across the country as they organize, is announcing our intention to establish a Strike and Defense Fund with initial dedicated funding of $1 million for the Starbucks Workers United campaign.
Leadership
Chris Duarte
Vice President
Charles Martin
2nd Vice President
Jeannette Jauregui
Treasurer
Pedro Oceguera
Secretary-Treasurer