Leadership
SWRJB's Local 2842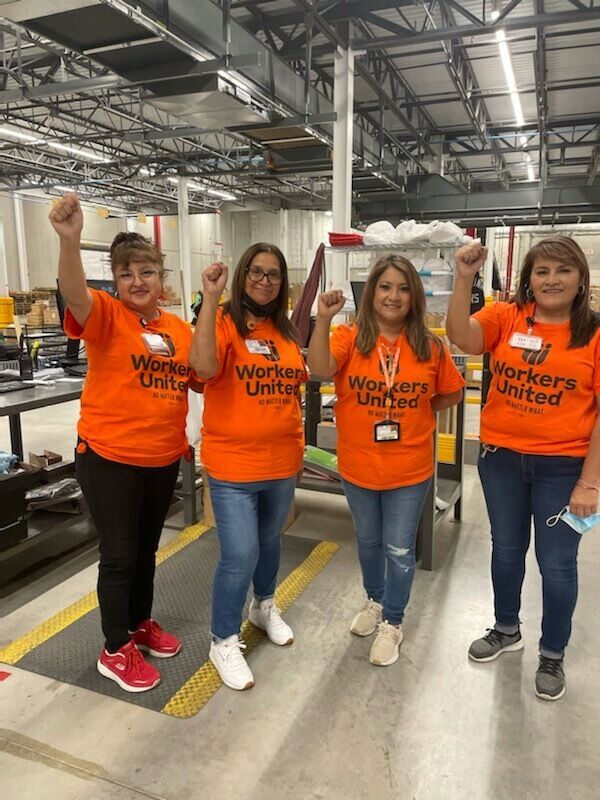 Southwest Regional Joint Board presents one of its outstanding leadership teams, Local 2842 from San Antonio, TX.
Madga Mendez, Mary Jane Gonzalez, Lucy Bates and Sara Salinas (shown in this picture) are just a few of the Internal Organizing members at Local 2842, along with Norma Camacho, Grace Mermelle, Cheryl Gonzalez, Rachel Perez, Orvilia Nieto, Frances Contreras, Corina Gandaria and Rene Treviño, who work at TJ Maxx Distribution Center and have all stepped up to the plate to make their local shine.
Many of them belong to their local's Executive Board, others are officers and all of them are their department's stewards as well as belonging to committees such as: Labor Management  Safety, Internal Organizing and New Hire Orientation.  In just a few months, this team and has been able to continuously increase the internal and new hire membership inside their local.     
Their ability to see their Local as a whole and not as an individual power grab, has made their teamwork special by expanding their team energy across all shifts in the entire facility.  And this is why members come to them on a daily basis for guidance and why they have captured the attention of non-members who want to learn and join their Union.
Local's 2842 union pride runs deep and we look forward seeing many more future activities from this great team!
Back To Member Stories